If you have a female in heat and require our French Bulldog Stud Service immediately. You can Email or Call/Text (519) 929-0739.
About Our French Bulldog Stud Service
We began our journey in 2016 when we adopted Purple Pluto, an amazing Lilac Frenchie Sire. Since then, we have added several other high-quality studs to our program which are available for use in your breeding.
Meet Our French Bulldog Studs
Astro is our lilac platinum stud that has been used in several healthy litters all across North America. He appears cream but can produce blue, lilac, cream, and chocolate. He also carries tan points and pied. He is a very
Aries, our newest addition to the stud roster. Born in 2022, this Lilac and Tan Frenchie is not only remarkable for his aesthetics but also his genetic advantages. Having passed rare genetic screenings, Aries is C3 clear and carries just a single copy for IVDD, enhancing his desirability for breeding top-tier, breed-quality French Bulldogs.
Enzo is a compact lilac that comes from a proven sire and our very own girl, Hazel. Born in 2021, Enzo has a very similar twin brother, Elon that is also available on our stud service. Both of these studs are about 22 lbs and carry tan points, cream, and one copy of the long hair (fluffy) gene. ​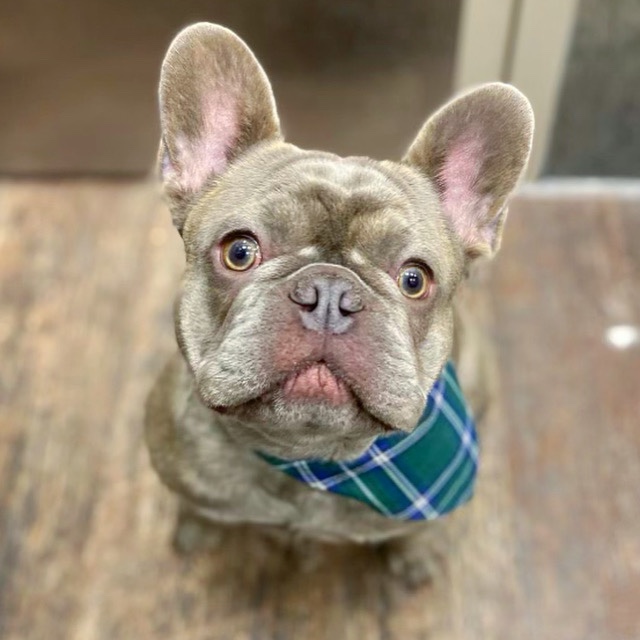 Titan, is a lilac platinum stud that will be available for use in 2024. He was born in Canada earlier in 2023 and comes from exceptional lineaege. His is similar to Astro in appearance, however he will be a smaller Frenchie. He also carries a copy of long-hair (Fluffy Producer).
Visit our French Bulldog Studs page to view detailed information about our studs including DNA testing reports and registration certificates.
CKC – AKC French Bulldog Studs
Our selection process for studs begins with DNA Testing and French Bulldogs that are structurally correct with good, open nares. One of the most important traits we look for is Frenchies who will not be prone to breathing issues in the future.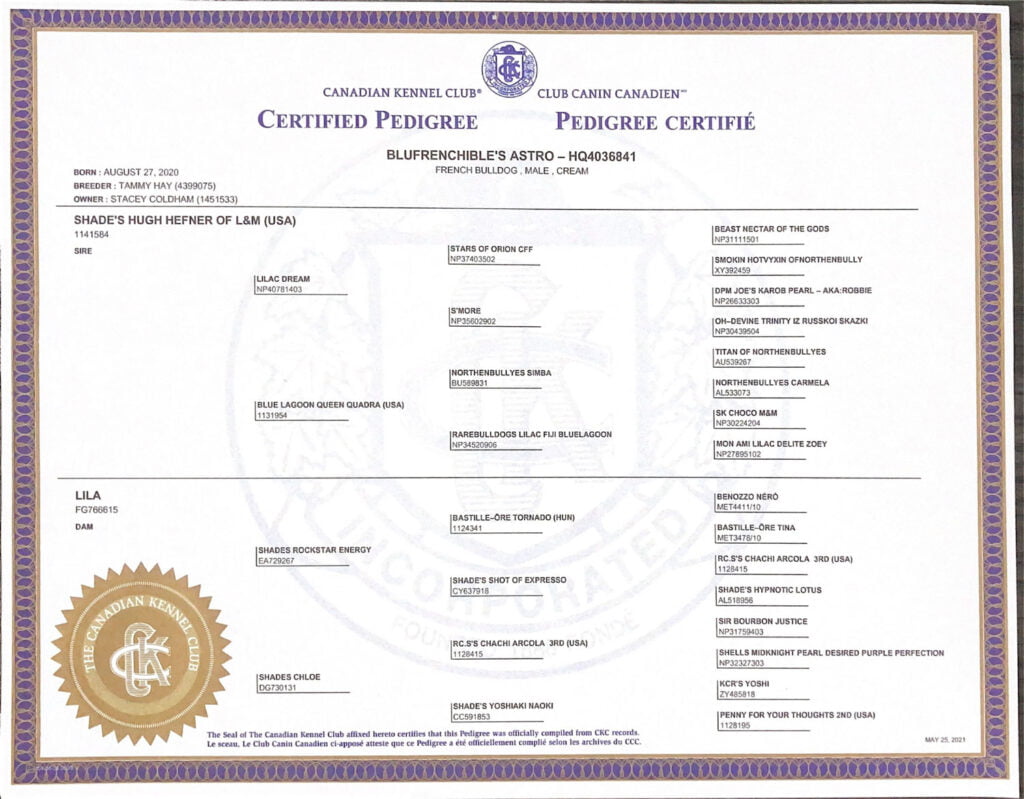 Produce Healthy Litters
Genetic screening is an incredible tool that we take seriously. We stay up-to-date on all of the latest research to identify areas where our lines can improve in the future. We offer a healthy litter guarantee with all of our breedings. All of our studs are tested through Animal Genetics and the results are made available to you online.
Healthy Frenchies are our highest priority. We screen our Studs for:
C3 (Cysturnia 3)
IVDD (CDDY & CDPA)
JVC (Hereditary Cataracts)
HUU (Hyperuricosuria)
CMR1 (Multifocal Retinopathy 1)
DM (Degenerative Myelopathy)
We Specialize in Lilac French Bulldogs
Lilac Frenchies are created by the combination of Blue (dilute) and Cocoa, which is present in all of our studs. We offer various types of Lilac French Bulldog Studs, including Lilac Brindle, Lilac / Tan, and Lilac Platinum.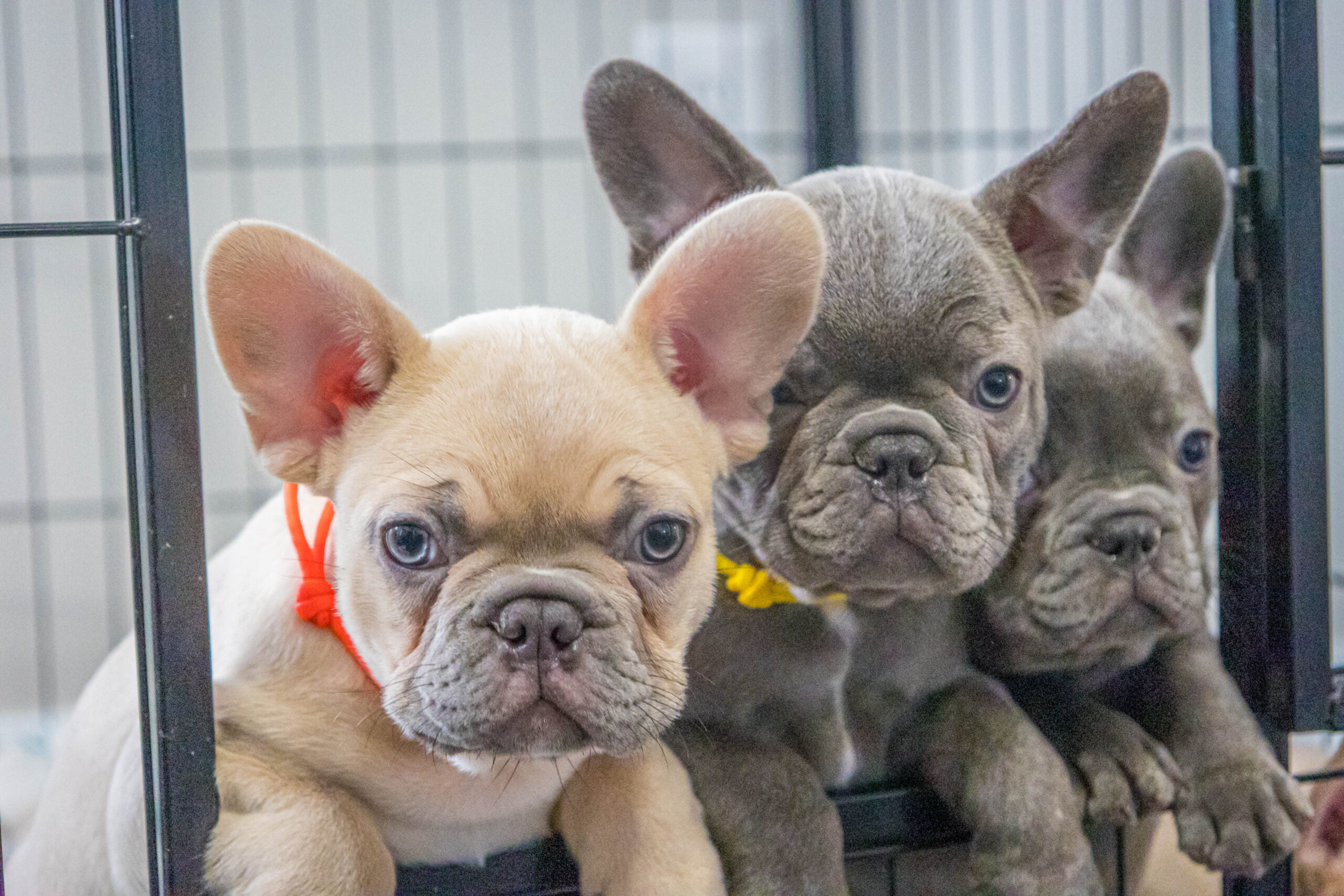 Our French Bulldog Stud Fees
Every breeding process is unique, which is why we offer flexibility in our stud services. Prices start as low as $1500, depending on the stud and the unique requirements of your breeding plan. We require a $250 deposit to secure your spot. We accept a wide range of payment options including E-transfer, Wire Transfers, or credit cards.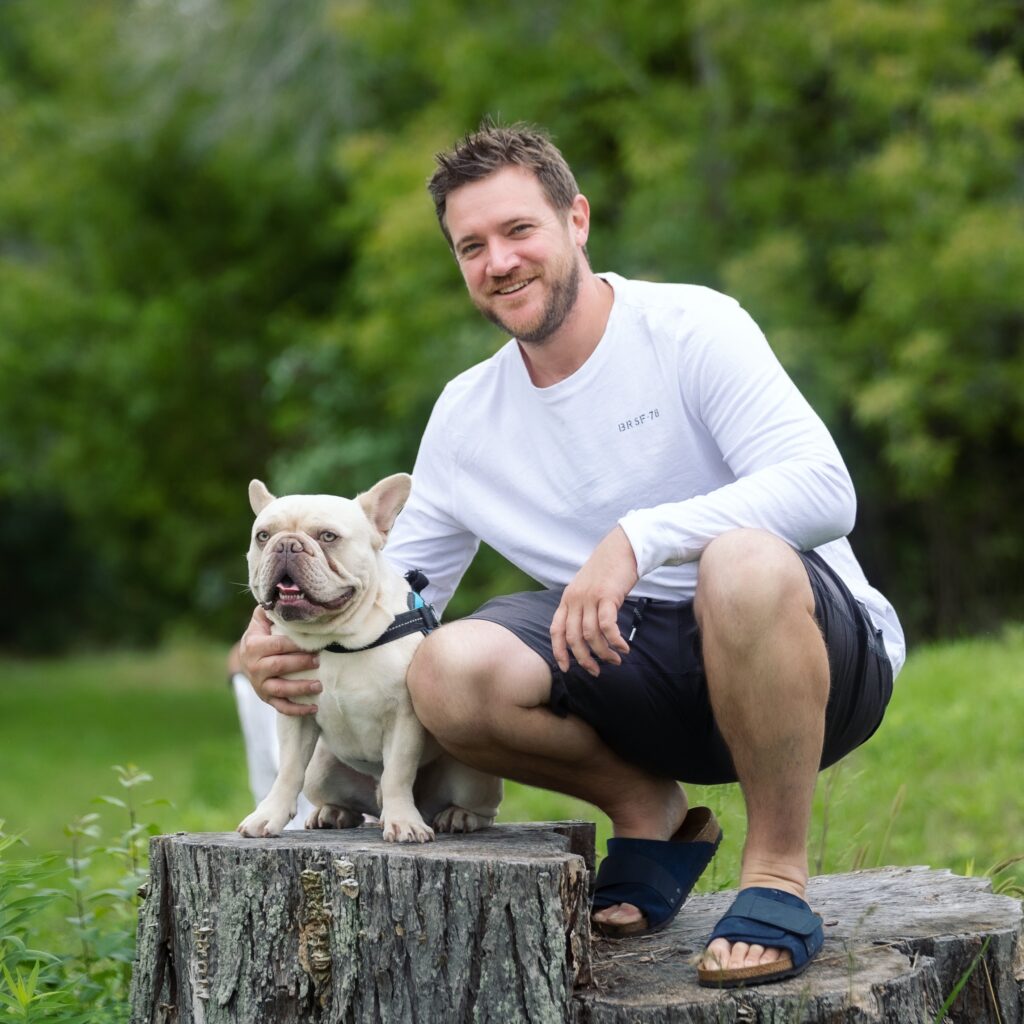 French Bulldog Semen Shipping
We have extensive experience with shipping French Bulldog semen and can help coordinate any breeding across North America. French Bulldog semen can be preserved and used for up to 10 days from the collection. About half of our breedings involve chilled semen.
Ongoing Support
Our dedication goes beyond the breeding phase. We offer support throughout the pregnancy, delivery, and puppy care stages. You may encounter several unique challenges, and we are here to help you navigate through them. A direct line to us will be available for any inquiries you may have about the process.
Litter Projections
We are happy to provide no-obligation, free litter projections with any of our studs. We have an advanced understanding of French Bulldog color genetics and have even developed our own industry-leading DNA Calculator trusted by French Bulldog breeders everywhere. Please email us your female's genetic profile and we can provide litter projections for any of our Studs.
Booking Information
We accept a limited amount of bookings to ensure there is no overlap between breedings. We can often accommodate last-minute breedings. Please email info@blufrenchibles.com or call (519) 929-0739. You can also use the contact form below.
Contact Us
Our French Bulldogs For Stud Service
Testimonials
We have successfully carried out numerous breedings throughout North America, achieving a remarkable success rate owing to our expertise. Below are testimonials from other breeders regarding BluFrenchibles and our Stud Service.
Excellent attention from Justin
I cannot recommend Blufrenchibles highly enough. We had an exceptional experience with Staci and Justin. They breed healthy, happy puppies in a loving family environment. We adore our sweet little girl. She is everything we hoped for.
Thank you Staci and Justin. We are so excited to welcome Ollie to our family. Our pick up today was amazing. You both are so friendly and all the info you shared is so helpful. Thank you.
I was looking for the most perfect cream or platinum stud to breed with my female. Ran across Astro who is owned by BluFrenchibles. Even though I live in the US and they are located in Canada, I couldn't have asked for a more smooth process when it came to the shipping of the semen. I highly recommend BluFrenchibles, not only was Stacey very easy to work with, she is very knowledgeable and honest!
Staci and Justin were wonderful and informative throughout the process. We truly valued that our pup was raised by an ethical and experienced breeder and in a loving home environment.
Blu Frenchibles clearly is the cream of the crop. One thing they do that's crucial is that they genuinely care for the Frenchies, and their process from beginning to end is fair and necessary to get the adorable Frenchies into good and caring homes. The part that gets me is the amount of educating they do with their videos on top of what they're already doing. If a Frenchie is truly the dog for you, I 100% suggest you call Blu Frenchibles.
Staci and Justin of Blu Frenchibles are amazing people to deal with. They are very knowledgeable.....professional.....lots of follow up....are caring and reliable. I would highly reccomend Blu Frenchibles to anyone looking to add a frenchie to their home. Blu Frenchibles are very honest and open and always a pleasure to deal with. Their dogs health tested and guaranteed and of high quality.
Melissa Bromley Rudat
2021-01-14
These breeders really care about the quality and health of their litters. The pup we adopted has been a delightful addition to our family. She is loving, healthy and a lot of fun. Any questions or concerns we may have are answered quickly and professionally. I highly recommend Blu Frenchibles!
I could go on all day about blu frenchibles! They are ethical, responsible, honest breeders! If you are looking for a quality French bulldog look no further! The puppies they produce as well as the parents are family, they are raised in a family environment and loved beyond measure. If you want a healthy, happy quality puppy you have come to the right place!
Frenchie Stud Service FAQ
When is the right time to inseminate a French Bulldog?
We rely heavily on progesterone testing. When doing in-house breedings or shipping semen, this increases the odds of pregnancy significantly. You can learn more about timing here.
What colors can your French Bulldog Studs create?
We have studs that can produce Lilac, Chocolate, Cream, Blue, & Platinum. They can also produce pied, tan points, and long hair (fluffy Frenchies). Contact us for litter projections and assistance selecting the right stud.
I have a female in heat. How do I know when to breed her?
Progesterone testing will identify the correct day. It is usually around day 13.
Do You Offer a Litter Guarantee?
Yes, in the event of two or fewer pups, we offer a repeat breeding.