Do you have any French Bulldog puppies available?
The most common question we receive from families is "Do you have any French Bulldog puppies available"? To keep you informed about the latest opportunities, we have created this dedicated page to help you understand our process.
At BluFrenchible, we prioritize our newsletter followers when announcing available puppies. Signing up for our newsletter ensures that you will be among the first to know about any new arrivals. So, if you don't want to miss out on our puppy announcements, be sure to subscribe at the bottom of the page.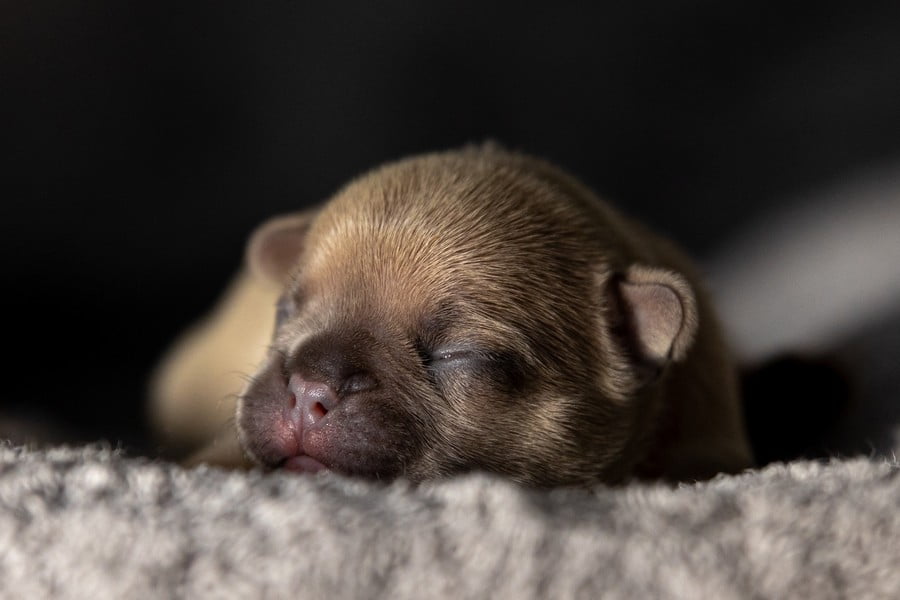 Availability of our Frenchie pups
Our French Bulldog pups do not remain available for very long. In fact, most of the time our litters are sold within a week of confirming a pregnancy. We are thrilled that families value our dedication to our breeding program, but this may not be a process you are accustomed to.
We do share a lot of the excitement on social media which prompts an increased interest in our French Bulldog Puppies, but they have generally already found a family by the time we've posted about them.
It is very important for you to research our breeding program well in advance and be aware that time will be limited once a pregnancy is announced. Please make sure your family is all in agreement that the timing is correct prior to reaching out.
We know that you may be curious about our breeding schedule and the expected number of puppies in each litter. While the size of our litters can vary, typically ranging from 1 to 9 adorable pups, we have found that our average litter size tends to be around 5 to 6 puppies. This information will help you get an idea of what to expect when considering adopting one of our puppies.
Discuss With Your Families
Adopting a French Bulldog is a big undertaking and can be a challenge for your family to transition. You will need to make sure everyone involved with this decision is supportive of the decision.
Breeding Announcements
Watch for our newsletter to be the first to know when we have completed breeding and will be accepting deposits for a French Bulldog Puppy. We will share these announcements on social media, but prioritize email replies. You can then contact us at info@blufrenchibles.com to notify us of your interest.
Please communicate in your reply that you have already researched the breed, BluFrenchibles and that you are serious about adopting a French Bulldog Puppy.
French Bulldog Puppy Cost
Breeding French Bulldogs is an incredibly expensive endeavor. The adoption fees for a French Bulldog Puppy can catch many people off-guard if they have not researched the breed. While our adoption fees vary, this article can help you with what to expect – Cost of a French Bulldog Puppy
Interview
We will request some information about you and your family and conduct an interview to ensure that you can provide a suitable home for one of our French Bulldog Puppies. We will likely schedule a phone call at a convenient time.
Contract and deposit
Upon approval, we will send you a contract to review and sign. Your position on our waitlist will be secured once we receive your signed contract and deposit.
Puppy updates
After the puppies are born, we will provide regular updates through social media and email communications to our adoptive families. Our time is more constrained while we tend to the pups, but we keep you well-informed of their progress.
Pick Up / Final payment
When the puppies reach 8 weeks of age, they will be ready to join their new homes. The remaining financial commitment will be due at this time.
Vaccinations and health checks
Your new French Bulldog will come with up-to-date vaccinations and a clean bill of health from our veterinarian.
Vet examination:
We strongly recommend scheduling an appointment with your own vet to conduct a final examination of your puppy soon after bringing them home. This helps ensure that your new companion is in optimal health, allowing for a long and happy life together.
Given the high volume of inquiries we receive, we want to assure you that we make every effort to respond to all of them promptly. We value your interest and strive to provide the information you need. Thank you for considering BluFrenchible as your potential source for a French Bulldog companion!
Don't forget to check back regularly and stay connected through our newsletter for the latest updates on available puppies.
Reviews
Excellent attention from Justin
I cannot recommend Blufrenchibles highly enough. We had an exceptional experience with Staci and Justin. They breed healthy, happy puppies in a loving family environment. We adore our sweet little girl. She is everything we hoped for.
Thank you Staci and Justin. We are so excited to welcome Ollie to our family. Our pick up today was amazing. You both are so friendly and all the info you shared is so helpful. Thank you.
I was looking for the most perfect cream or platinum stud to breed with my female. Ran across Astro who is owned by BluFrenchibles. Even though I live in the US and they are located in Canada, I couldn't have asked for a more smooth process when it came to the shipping of the semen. I highly recommend BluFrenchibles, not only was Stacey very easy to work with, she is very knowledgeable and honest!
Staci and Justin were wonderful and informative throughout the process. We truly valued that our pup was raised by an ethical and experienced breeder and in a loving home environment.
Blu Frenchibles clearly is the cream of the crop. One thing they do that's crucial is that they genuinely care for the Frenchies, and their process from beginning to end is fair and necessary to get the adorable Frenchies into good and caring homes. The part that gets me is the amount of educating they do with their videos on top of what they're already doing. If a Frenchie is truly the dog for you, I 100% suggest you call Blu Frenchibles.
Staci and Justin of Blu Frenchibles are amazing people to deal with. They are very knowledgeable.....professional.....lots of follow up....are caring and reliable. I would highly reccomend Blu Frenchibles to anyone looking to add a frenchie to their home. Blu Frenchibles are very honest and open and always a pleasure to deal with. Their dogs health tested and guaranteed and of high quality.
Melissa Bromley Rudat
2021-01-14
These breeders really care about the quality and health of their litters. The pup we adopted has been a delightful addition to our family. She is loving, healthy and a lot of fun. Any questions or concerns we may have are answered quickly and professionally. I highly recommend Blu Frenchibles!
I could go on all day about blu frenchibles! They are ethical, responsible, honest breeders! If you are looking for a quality French bulldog look no further! The puppies they produce as well as the parents are family, they are raised in a family environment and loved beyond measure. If you want a healthy, happy quality puppy you have come to the right place!
Latest on Instagram
Other Links:
Do you breed all your French Bulldog Puppies?
Yes, we do not import or sell puppies from anywhere else.
What Color Frenchies Do You Produce?
Our lines can currently produce Lilac, Lilac-Fawn, Lilac Platinum, and Lilac and Tan.
Do You Offer a Health Guarantee?
Yes, please visit our contracts page for full details on our 1-year guarantee.