Hi, Blufrenchibles Family!
It has been an incredibly busy summer. As you already know, our girl Hazel has given birth to two healthy lilac male pups (Elon & Bezos). They are exceptionally adorable and almost ready for their forever homes. They were both produced from incredible lines with the intention of including them in our breeding program. We are excited to announce that we will be seeking a Guardian (co-home) for these pups. We have many applicants already, but as always we need to find a home that is perfect for them so the more applicants the better!
What is our Guardian Program?
In the simplest terms,  a guardian French Bulldog will be your family member and reside with you full-time. We will retain full breeding rights and access to him whenever required for breeding.  When he is released from the breeding program, full ownership is transferred to you. Pups from our Guardian program are offered at a lower cost, but we require flexibility and an amazing family that is also committed to helping us produce world-class, ethically bred French Bulldogs. The ideal location for a Guardian Family would be within the Durham Region. Please email staci@blufrenchibles.com if you would like more information.
Astro Breedings
We have completed several breedings and produced litters using our Platinum Stud, Astro. If you've ever searched on YouTube for French Bulldog adoption or training advice, the odds are you have discovered an informative channel by Peter Kramm, MyPawesomeFrenchie.  Astro was recently used in breeding with his beautiful girl, Kiwi. You can follow his Instagram account for the latest here – https://www.instagram.com/mypawesomefrenchie
Another breeder we enjoy working with, Blue Charcoal Frenchies, has recently produced a beautiful litter with Astro and Gracie.  You can follow their excitement here – https://www.instagram.com/bluecharcole_frenchies/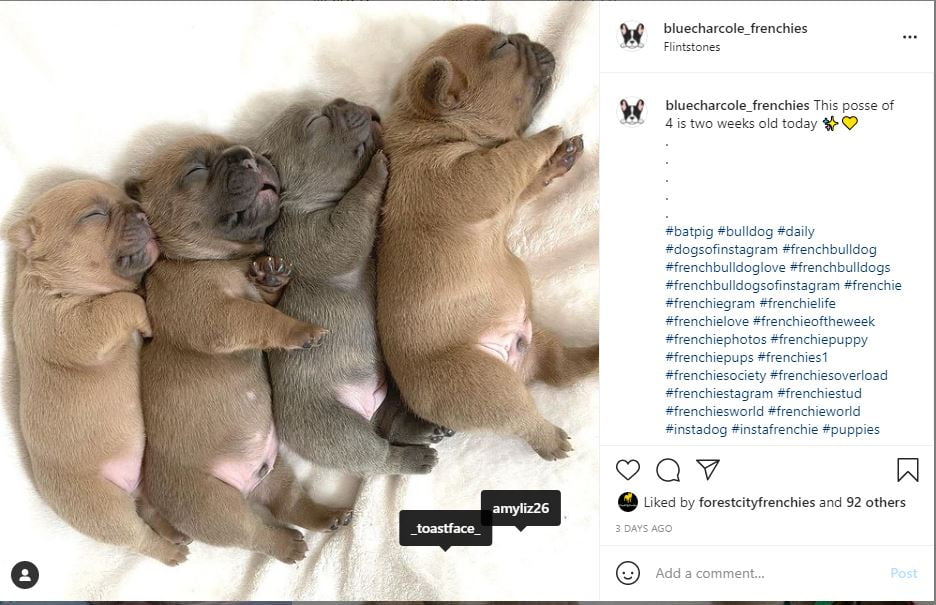 We still have many breedings scheduled with Astro that we will share in the future. Our girl Lexi should be given clearance for breeding towards the end of the year where we hope to have some adoption opportunities. Keep following here for the latest.
Thanks as always for your support,
Justin & Staci